Our fire company takes great pride in protecting and serving our community as well as continuing our rich history in the borough of Malvern. Feel free to stop by the Station anytime. We Operate 5 pieces of Firefighting Apparatus and 5 pieces of Emergency Medical Apparatus. We are always looking for new volunteers and help from the community. Contact us today!
The firehouse is located at 424 East King Street in Malvern Borough. For emergencies, please dial 911. For all other communications we can be reached at 610-647-0693 or via e-mail at info@malvernfireco.com.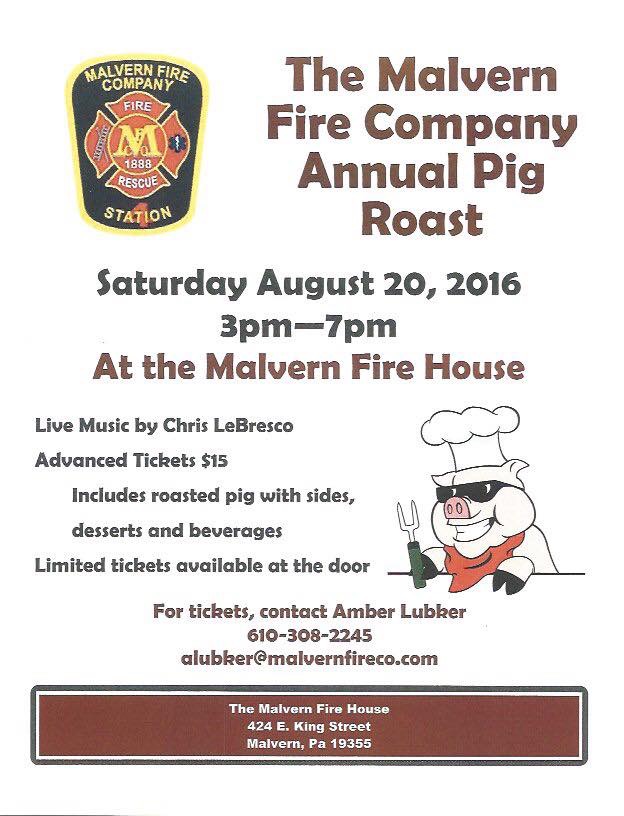 Tac 4 Attends Annual UMLY Emergency Services Day

News Desk, August 03

On August 3rd, Tac 4 and a crew of Malvern firefighters traveled to the Upper Mainline YMCA to participate in the annual UMLY Summer Camp Emergency Services Day.

The crew of the Tac taught campers about the use of fire extinguishers as well as how to operate a fire hose. The crew interacted with the campers, answered questions and even posed for a few photos.

This event has become a summer tradition ... (Full Story & Photos)



Assistant Chief Matt Miles with some campers


Fatal House Fire in Malvern Borough

News Desk, July 04

At 4:01 AM on Monday July 4th, 2016 the Malvern Fire Company along with assistance from the East Whiteland Volunteer Fire Association, Paoli Fire Company and Berwyn Fire Company were alerted for a reported house fire in the 300 Block of East King Street, in Malvern Borough.

Fire crews arrived within five minutes of dispatch to find smoke coming from a second floor apartment with information being ... (Full Story & Photos)

Department Trains on New Mobile Training Trailer

News Desk, June 25

Thanks to funds provided largely by FEMA's 2014 Assistance to Firefighters Grant, the Malvern Fire Company worked through the latter half of 2015 and early 2016 to acquire a multi-functional training prop. As an added benefit, this training prop is mounted on a trailer, so that it can be moved when and where necessary to facilitate the best possible training.

The prop enables Malvern firefighters ... (Full Story & Photos)



Ladder 4's crew investigating HVAC units on the roof of an office building in East Whiteland

HVAC Issue to Blame for Smoke in East Whiteland Office Building

News Desk, June 21

At 19:31 hours Station 4 was alerted to assist Station 5 (East Whiteland) for reports of smoke in an office building in the unit block of Great Valley Parkway in East Whiteland Township. Also due on the assignment were Station 3 (Paoli) and Station 2 (Berwyn) for an Engine.

The county advised responding units of a caller reporting smoke in a hallway. Crews from 5,4,3 & 2 arrived and investigated ... (Full Story & Photos)


8 Ducklings Rescued from Storm Drain

News Desk, June 11

On Saturday, the Malvern Fire Company and Willistown Police Department responded to the unit block of Tulip Drive in Willistown Township for reports of ducklings stuck in a storm drain.

Malvern crews teamed up with the Willistown PD to rescue 8 ducklings from the storm drain. After removing them from the drain, they were reunited with their mother in the nearby pond.

We are pleased to share that ... (Full Story & Photos)

Looking to pay your EMS Bill or submit insurance information? Click Here!
Your feedback is important to us! Feel free to sign the guestbook.